When:
October 26, 2018 @ 12:00 pm – October 27, 2018 @ 4:00 pm
2018-10-26T12:00:00+00:00
2018-10-27T16:00:00+00:00
Where:
IBI Learning Centre
1st Floor Discovery Mall
Adetokunbo Ademola Cresent, Wuse 2
Abuja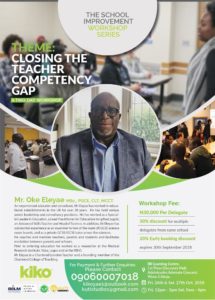 We are pleased to invite you to participate in a two-day workshop titled "Closing the School Competency Gap". This is the first in our School Improvement Workshop Series. This workshop will cover recent trends and hot topics on closing the teacher competency gap. It will provide participants with evidence-based strategies, and best practices that will promote sustainable school improvement and lead to improved teacher competency and positive student outcomes. It will also provide strategies to support the development of middle-leaders, who are key drivers for improving standards in schools. Participants will be able to explore new and inspiring ideas which can be immediately applied in schools to help improve staff performance and student outcomes. As experienced stake holders in the education sector, there will be opportunity to network with other innovative schools, head teachers, senior leaders and key stakeholders in education.
The sessions promise to be informative, engaging, challenging, impactful and highly rewarding.